What can people leaders do to manage their own stress in the workplace? We offer several stress-busting suggestions that healthcare leaders can use to remain calm, even during the most dire and difficult moments.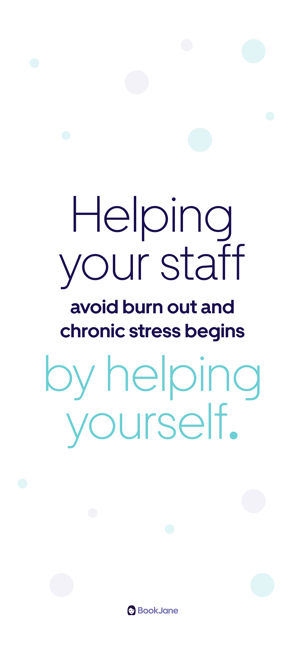 Know Your Anxiety
Identifying and getting to know your own anxiety can help to manage it more effectively. When we view our anxiety as a problem or threat, we often work against ourselves by running away from uncomfortable feelings. Research shows that engaging with one's anxiety through mindfulness techniques such as breath work, meditation and visualization can reduce anxiety and improve cognition by helping us tap into the regions in our brains responsible for concentration, decision-making and awareness, thereby putting us in a calmer state.
Invest in the Right Tools
Increased effectiveness in the workplace is often synonymous with decreased stress; significant research shows that stress is higher when there are high demands and low control. Making the decision to invest in things like shift or workforce management software can help managers be more effective in healthcare staffing , thereby reducing stress that might come with inefficient staff scheduling.
The biggest benefit of workforce management software is that it allows organizations to automate functions like shift fulfillment, payroll and timekeeping. This is crucial, given the countless stress-inducing hours managers often spend on payroll, as well as time and attendance management. Workforce management software also transfers much of the responsibility for building shifts to the employees themselves, another stress-busting plus.
Set a Routine
Setting and keeping a routine can help reduce feelings of anxiety; doing the same thing at regular intervals can signal to the brain that we are safe and secure.
Routines don't have to be complicated, time-consuming or costly – they can be as simple as taking a walk at the same time every day, taking regular lunch breaks or setting aside time every evening to write in a journal.
Whatever the routine, do ensure a regular commitment and remain accountable to it.
Acknowledge Things are Difficult & Stressful
Ambiguity of any kind can create stress and anxiety – and the pandemic is creating uncertainty within organizations at all levels. Calmly facing facts about the reality of the pandemic and its implications on work allows for an element of control over the problem. More than anything, managers need to avoid burying their heads in the sand, and instead face the realities that come with the pandemic, in order to make decisions that will bring more control and calm to the team. By facing worst-case scenarios and problem solving around them, managers and leaders can reduce stress and other dysfunctional outcomes.
Exercise
Yoga, walks, workouts at the gym – whatever it takes, building movement into the day is a helpful way to combat stress and anxiety. Self-care requires a degree of discipline – but also enjoyment. Try a new exercise hobby as a way to reduce anxiety and regulate emotions.
Values
When the going gets tough, reliable leaders stay true to their values. Relying on and maintaining a commitment to personal and company values during times of stress often serves as a roadmap to reducing anxiety. It's also important to remember that it's often when the times are toughest that we need to fail gracefully, learn and grow.
With the stresses that come with the pandemic set to continue into the foreseeable future, healthcare leaders must find ways to manage their stress, so that they can help their frontline staff lessen their own.
Download "My checklist" as a PNG: Download as a PDF: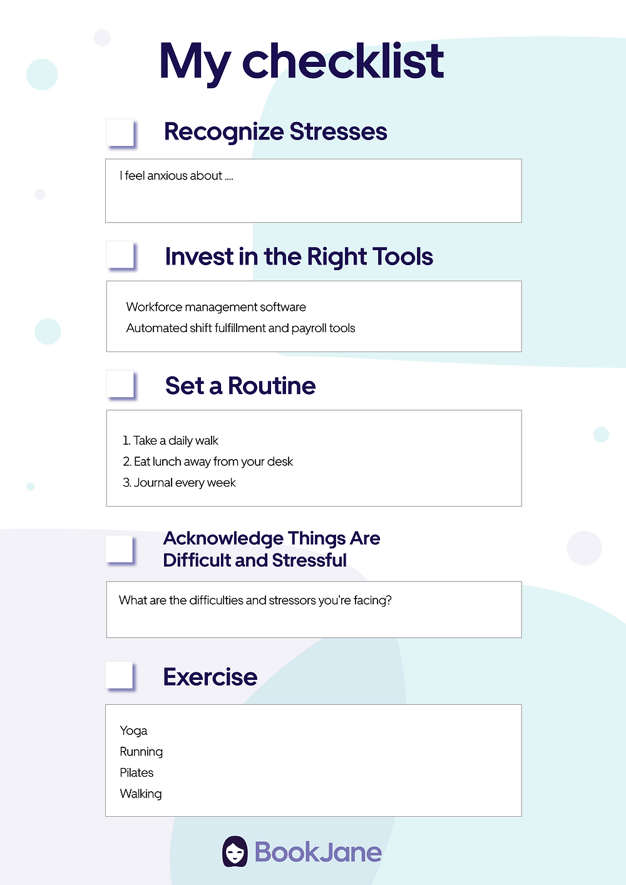 Learn how BookJane helps health care facilities improve shift fulfillment by 40%, dramatically decrease their time to fill shifts, and significantly reduce burdensome scheduling and administration time.