The Talent Gap
The Canadian Nurses Association warns that Canada will experience an extreme shortage in nurses in the coming years, predicting a deficit of 60,000 nurses by the year 2022. With seniors set to make up nearly 25% of the Canadian population by 2030, and the last of the Baby Boomers transitioning into retirement, employment needs in the healthcare industry are not being met.
With strict social distancing and quarantine requirements in place as a result of the pandemic, many healthcare organizations are relying on new tools and policies to strengthen their recruitment process, and finding innovative solutions to improve hiring. Many organizations must now rely on virtual interviews, virtual hiring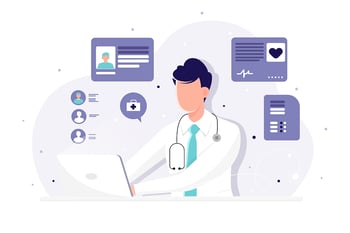 events, and an accelerated hiring process. In the US, several states have modified their existing regulations to meet the new need to onboard staff at an accelerated pace, while in Canada, healthcare leaders continue to implement new tools to attract and hire talent. Here are just a few:
Recruitment Software: Recruitment software, including tools such as applicant-tracking and marketing platforms, offer healthcare leaders access to highly skilled healthcare professionals seeking employment.
Social Media: Platforms such as LinkedIn can be particularly effective in healthcare recruiting. By using social media in their recruitment strategies, healthcare leaders can find job seekers on the platforms that they are already using. Furthermore, in trying to attract candidates from the millennial pool, leaders may consider using platforms such as Instagram where, according to recent research, more than half of Canadian and US millennials are active.
Optimized Career Site: Many healthcare leaders are allocating resources to improve and optimize their career sites, so that the organization's culture, values and mission are highlighted in order to attract highly qualified professionals and receive more job applications. Site optimization can also help target specific candidate personas. A little effort in optimizing a career site can make a huge difference and increase the number of high-quality applicants.
Off-Hour Interviews: In the healthcare industry, caregivers often work off hours that don't fall in the usual 9-to-5 schedule. Many healthcare organizations are offering evening and weekend interviews to accommodate candidates who may be affected by scheduling issues.
Colleges and Universities: Many healthcare recruiters are using university and college job boards, newsletters and online platforms to advertise open positions to new graduates.
Work-Life Balance: Healthcare leaders have added flexible shift scheduling to attract candidates who may be seeking a balance between personal time and work time.
An Engaging Brand: The turnover rate in the healthcare space is second worst only to the hospitality industry. Many healthcare facility leaders are beginning to realize the importance of improving employee engagement to help resolve recruitment and retention issues, and that motivated and happier employees are more likely to go above and beyond in providing quality care to patients. In other words, employer branding matters more now than ever.
Over 4 million caregivers will be needed in the United States and Canada by 2030. To meet this growing need, healthcare leaders must continue to seek new ways to recruit, interview and hire the strongest healthcare worker candidates.
Learn how BookJane helps health care facilities improve shift fulfillment by 40%, dramatically decrease their time to fill shifts, and significantly reduce burdensome scheduling and administration time.