Research shows that frontline healthcare workers battling the virus are putting themselves at risk for not only contracting the illness but also for depression and anxiety caused by exposure to the emotional horrors of a disease that has so far killed over 922,000 people worldwide.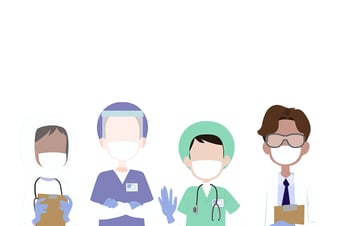 In other words, frontline healthcare workers are often more susceptible to experiencing depression and anxiety in the face of the pandemic than those not seeing the effects of the virus first-hand.
Strengthening mental health support for frontline healthcare providers will be vital in staying ahead of long-term mental health impacts that may take years to fully emerge. Healthcare workers are at a higher risk for developing burnout, depression, and PTSD, all of which are only exacerbated by the pandemic.
For those Canadian frontline healthcare workers who may be sacrificing their own well-being in their efforts to combat COVID-19, social support services do exist.
CAMH:
In response to the pandemic, CAMH launched ECHO Ontario Coping with COVID in support of connection, resilience and community among healthcare providers. With over 500 healthcare providers and residents registered, and numbers steadily growing as more professionals seek support, the new program builds on ECHO Ontario Mental Health, a virtual training model that supports providers to deliver high-quality, evidence-based mental health and addictions care in local communities.
Mental Health Commission of Canada:
Leading the development and dissemination of innovative programs and tools to support the mental health and wellness of Canadians, the MHCC offers a series of resources for individuals coping with COVID-19 related mental health issues, including information and tip sheets, training, webinars and other resources.
The Government of Canada:
Providing useful resources, tools and services to help improve and maintain mental health, the webpage includes links to crisis service centres and crisis lines, distress centres, stress management tools, mental health activities, videos and other information.
Crisis Services Canada:
Crisis Services Canada (CSC) is a national network of distress, crisis and suicide prevention line services that has been helping Canadians since 2002. Offering COVID-19 mental health resources, FAQ's, links to other support organizations, as well as access to immediate suicide prevention and support.
Caring for Health Care Workers:
In partnership with the By Health, For Health Collaborative (the Collaborative), the Mental Health Commission of Canada (MHCC) and HealthcareCAN, Caring for HealthCare Workers is a resource for Canadian healthcare organizations seeking to assess and promote workplace psychological health and safety. The Caring for Health Care Workers website offers a toolkit created specifically for healthcare organizations.
Canadian Centre for Occupational Health and Safety:
The CCOHS is Canada's national resource for workplace health and safety. CCOHS resources include podcasts, webinars, courses and e-learning, and helpful health and safety fact sheets, all on mental well being.
The Canadian Mental Health Association:
Founded in 1918, the Canadian Mental Health Association (CMHA) is the most established, most extensive community mental health organization in Canada, with a presence in more than 330 communities across every province and one territory. The CMHA provides advocacy, programs and resources that help to prevent mental health problems and illnesses, and support recovery and resilience. The CMHA offers free online support such as training and tools, job specific strategies, workplace management techniques, and other resources for employees.
Wellness Together Canada:
Funded by the Government of Canada in response to the unprecedented rise in mental distress due to the COVID-19 pandemic, Wellness Together Canada offers is a mental health and substance use website to support people across Canada and Canadians living abroad in both official languages. In partnership with Stepped Care Solutions, Kids Help Phone and Homewood Health, Wellness Together Canada provides no cost resources such as immediate text support, information and videos on common mental health issues, mental wellness programs with or without coaching, and individual phone, video and text counselling.
Providing care to others during the COVID-19 pandemic can lead to stress, anxiety, fear, and in some cases depression. How frontline healthcare workers cope with these emotions can affect their long-term well-being, as well as the care they give to others. During the pandemic, it is crucial that front line healthcare workers take the steps needed to cope with stress and seek help when needed.
Learn how BookJane helps health care facilities improve shift fulfillment by 40%, dramatically decrease their time to fill shifts, and significantly reduce burdensome scheduling and administration time.