One of the most innovative and highly valued aspects of new technology is it puts seamless connectivity right into your pocket. When that kind of power is applied to workplace management software in healthcare, it means staff can pick their own shifts, on their own time, from their own phones. Facilities that use software platforms like BookJane know just how much their team members appreciate having direct control over their schedules and work-life balance, and are seeing a significant increase in staff engagement.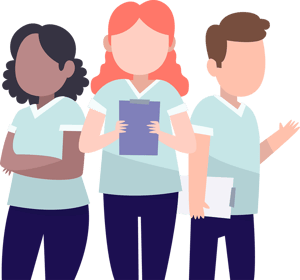 New technology also responds to the changing workplace demographic, meeting millennial and Gen Z patient care staff where they are: on their phones. These employees grew up with technology at their fingertips and already make up the largest proportion of the Canadian healthcare workforce. There is an expectation among this generation that software tools and apps make things easier, convenient and more engaging, so it makes sense for them to use technology to build their schedules and communicate with managers. Platforms like BookJane J360 provide fast and intuitive ways of sharing information between staff and management that vastly improve on outdated methods involving the telephone, paper and spreadsheets.
Communication is crucial in patient care and software platforms make information sharing easy and efficient. Real-time, two-way chat lets management send news and general announcements to the entire team, or direct messages to groups or individual employees. The COVID-19 pandemic, which put unprecedented staffing and informational demands on senior living and healthcare facilities, made effective communication even more important. Healthcare leaders at Seasons Retirement Communities used BookJane's real-time, two-way chat feature to notify team members about shift changes, outbreaks and protocols, while employees used it to ask questions and stay in touch with managers. For Seasons Retirement Communities, the technology has been instrumental in keeping front-line staff informed and engaged.
Most importantly, scheduling software gives employees choice and flexibility over their own work schedules. Instead of feeling obliged to take shifts during one-one-one calls with managers, staff get to be in the driver's seat and can select the shifts that best suit their work-life balance. Assisted Living Coordinator Megha Khatri (Amica Senior Lifestyles, Peel Village) has seen a dramatic change in her team members since implementing BookJane: "they feel empowered, they feel very happy that they are the ones in control now ... to accept whatever shift they want to work." Personal Support Worker Jessica Bailey (Amica Senior Lifestyles, Peel Village) agreed. She loves the ease and convenience of the app and said being able to pick up shifts on her own time has improved her life.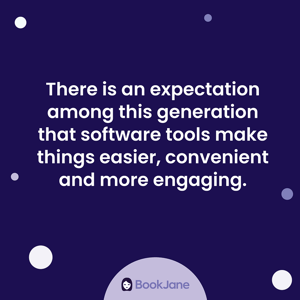 Your most important asset in healthcare and long-term care is your staff. But the complexity and dynamism of these workplaces, combined with common staff challenges in patient care, like employee burnout and turnover, can make human resources difficult to manage. New technology boosts staff engagement and retention by giving employees the freedom to choose the shifts they want, when they want, and by modernizing and enhancing communication between leadership and teams.
Now that you know how scheduling platforms like BookJane J360 can keep your healthcare staff engaged, find out how the platform can help you and your staff save time. It's next in our 4-part series on why new technology is crucial in healthcare.
For an in-depth look at how BookJane J360 improves the workplace environment, click here.
Learn how BookJane helps health care facilities improve shift fulfillment by 40%, dramatically decrease their time to fill shifts, and significantly reduce burdensome scheduling and administration time.