Workplace management tools and scheduling technology – like the BookJane platform – do more than just shift these administrative tasks from the older modes of paper, pen and telephone to mobile devices. Alongside huge gains in administrative efficiency, workplace management technology brings a host of crucial benefits to care facilities.
1) Reduce agency fees
Agency costs from external staffing can add up quickly in long term care and senior living facilities. The need to reach out to agencies is often the result of poor internal management. Workplace management tools ensure that shift call-outs reach your in-house staff instantly, optimizing scheduling options for your first string personnel before reaching for outside assistance. By providing an accurate, real-time picture of shifts and availability, scheduling technology often reveals there is staff available within your own facility. With that extra layer of operational visibility and efficiency, agency reliance becomes the exception, rather than the rule, and results in lower costs.
2) Reduce overtime costs
Overtime is not only a major expense that can surprise you during busy periods, it is especially taxing for frontline staff in long term care. Scheduling technology and workplace management tools get ahead of unforeseen needs, absences and last-minute time-off requests, making sure there is an equal shift distribution among your internal staff and keeping work weeks to 40 hours. The benefits are measured in both higher staff satisfaction and lower overtime costs. Organizations adopting the BookJane J360 platform for shift fulfillment have seen overtime hours logged in their care facilities drop by as many as 1.6K per month, translating to significant cost savings.
3) Staff engagement
Workplace management tools put the work schedule into frontline staff's own hands. With platforms like BookJane J360, employees have direct control over their work-life balance and can pick their own shifts, on their own time, from their own phones. When staff members are empowered through choice, they're engaged. They in regularly and voluntarily, and there is less need for managers to incentivize.
When scheduling happens in a sub-optimum way, it's often through multiple daily phone calls daily from managers. Staff sometimes end up taking on shifts out of a sense of obligation. Scheduling technology helps remove that pressure from the employer side, and staff are instead motivated to sign up for shifts through choice, commitment, and desire.
4) Save time with one platform
When shift assignments, staff availabilities, requests and last minute scheduling changes are managed on an all-in-one platform, it saves everyone time. This is crucial in fast-moving and complex shift-work facilities like long term care and senior living, where schedules need to be created, communicated, and updated easily and quickly.
Having all the information in one, centralized, easy-to-access place, updated in real-time, makes it easy for staff to pick up shifts, and for managers to oversee shift fulfillment, accommodate the needs of individual employees, and plan ahead. Moving scheduling to mobile devices lets scheduling happen instantly – anytime, anywhere – while push notification features keep information flowing and people connected in time-saving ways.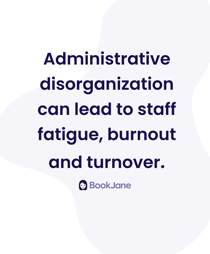 Administrative disorganization can lead to staff fatigue, burnout and turnover. When schedules are well managed, staff feel satisfied, engaged, and valued, and staff retention increases, along with quality of care. Workplace management tools like BookJane J360 help make scheduling consistent and predictable, and let employees create their schedules according to the work-life balance that suits them best.
Staff retention is especially important in long term care and senior living facilities to ensure stability and regularity over quality of care. Scheduling technology can help by letting internal staff view and select shift opportunities first. As these employees are most familiar with a facility's mission, vision, and values, management can target the desired healthcare professionals for retention, with positive and lasting impacts to care service delivery.
Scheduling doesn't have to be a headache or lead to cost overruns. When shift fulfillment is made smooth, easy, and efficient with workplace management tools like BookJane J360, management is supported, staff are engaged, and the entire workplace culture improves, even as costs are reduced. Senior living facilities have seen savings as high as $5K-10K per month after introducing scheduling software. Most importantly, letting workplace management tools take care of timetabling frees both staff and management to focus on their priorities of care and service delivery.
For an in-depth look at how the BookJane J360 platform can improve the workplace environment, click here.
Learn how BookJane helps health care facilities improve shift fulfillment by 40%, dramatically decrease their time to fill shifts, and significantly reduce burdensome scheduling and administration time.