In this article, we examine six trends healthcare and senior care organizations can expect in 2021:
1. Support of Front-Line Workers: With unprecedented strain put on the healthcare system, and healthcare providers vulnerable to emotional distress caused by their exposure to the virus, shortages of personal protective equipment and long, stress-inducing work hours, it is essential that healthcare and senior care leaders work to understand what their staff may be experiencing, and then take the necessary steps to help them cope.
Efficient methods of communication between management and staff are crucial in ensuring that staff have access to the policies, procedures, and guidelines that they need to perform their jobs effectively, which in turn reduces stress. Part of effective engagement involves finding effective workforce management internal communications technology systems that make staff feel more informed and valued. Many day-to-day processes—from shift callouts to staff communications and scheduling—currently rely on antiquated technologies and practices that drive inefficiencies and increase expenses, resulting in administrative burdens, poor staff communications and low staff satisfaction.
Technology can help healthcare organizations improve the way they manage the workforce. For example, healthcare staffing software allows for more effective and streamlined hiring, retention and engagement practices that contribute to improving the employee experience and lowering stress and anxiety in the workplace.
2. Data and Health Innovation: According to a consumer survey by Deloitte, consumers are increasing their use of technology to monitor their own health, and that of loved ones. Consumers are also growing more comfortable with the notion of sharing their health data with services that offer valuable insights in return. For example, more and more consumers monitor their health and fitness levels by using wearable technology. With the new ability of healthcare providers to incorporate consumer data from patients' unofficial health records into care models, the world is about to see a huge surge in health innovation, particularly when factoring in the power of AI-based diagnostics into the equation.
3. The AI and Machine Learning Surge: Analysts predict that 2021 will bring a surge of artificial intelligence and machine learning projects that will help senior and healthcare organizations improve administrative processes and procedures, thereby creating more time for patient work. According to the American Hospital Association, hospitals and senior care facilities will be in a position to re-imagine care delivery along every step of the care continuum, thanks to AI-powered technologies that will offer new patient services, improve diagnoses, advance the science of imaging and contribute to cost savings and patient satisfaction.
4. Technology in the New Normal: As the world gets ready to enter into the much anticipated "new normal," governments and healthcare decision makers will need to continue to assess and reassess their strategies to manage the virus and oversee vaccine rollouts. Technology will continue to be a critical factor in helping with the complicated and complex nature of vaccine logistics and transportation, and tracking.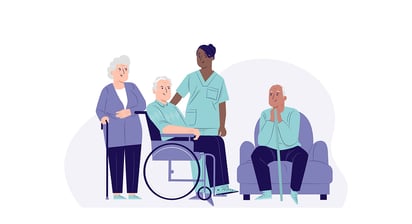 5. Healthcare Interoperability: As the world continues to fight COVID-19, organizations must continue to work together. This need highlights the importance of interoperability, whereby information is shared across the healthcare system, helping with everything from leveraging access to personal protective equipment to assessing the availability of beds in intensive care.
Interoperability is the key to enhancing the healthcare system in Canada, ensuring that all Canadians have a single, complete and electronic patient health record that is easily accessible every time a patient is seen by a healthcare provider. Interoperability would mean that health and senior care providers have timely access to their patients up to date healthcare information to support decision making and integrated patient management.
6. Telehealth is Here to Stay: According to recent studies, the use of telehealth increased in 2020, with 22 percent of patients and 80 percent of physicians conducting virtual visits – up from 8 percent and 22 percent in 2019. If nothing else, the pandemic has demonstrated the positive benefit of telehealth and virtual care. Patients have expressed a positive response to the flexibility provided by virtual visits. Telehealth also means more access to healthcare for more patients. With this growing demand, regulatory health environments will continue to adapt in order to realize the benefits of telehealth and virtual healthcare.
In the post-pandemic next normal, nothing will be the same, particularly in health and senior care delivery. The time is now for health and senior care organizations to start building new delivery care systems that will allow them to emerge stronger than ever.
Learn how BookJane helps health care facilities improve shift fulfillment by 40%, dramatically decrease their time to fill shifts, and significantly reduce burdensome scheduling and administration time.