Between the sudden and massive loss of life, with sick patients often dying alone, and overworked and exhausted staff experiencing unprecedented levels of fear, sadness, and guilt - all exacerbated by intense media coverage – it's no wonder that so many senior care workers are experiencing a Pandemic of Grief.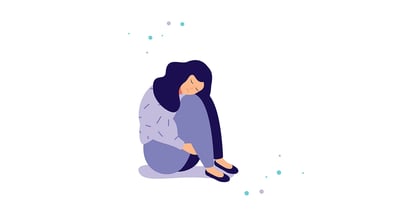 As we enter the second wave of COVID-19 – with data showing that a staggering 82 percent of COVID-related deaths come from long-term and senior care facilities - it is imperative that senior care facility leaders take a closer look at how they can stand by their workers and help them cope with their grief. It is crucial that frontline staff seek the help they need to stay resilient.
In this blog, we offer strategies that both frontline staff and senior care administrators can implement to cope with pandemic-related grief and sadness they may be experiencing.
Frontline Staff:
Seek help: If you're having trouble coping with grief caused by the pandemic, consider seeking help from a mental health provider. Crisis Services Canada provides a list of crisis and counselling centers across the country (including local bereavement support groups).

Pay attention: Acknowledge what you are feeling and what may have been lost due to the pandemic. Journaling can be an effective way to reflect on feelings. Allow yourself to be emotional in order to process the loss.

Recognize your strengths: Recognize that you have coping skills and consider how they can help you move forward. Think back on other difficult situations you have faced in the past. What methods did you implement to cope?

Stay connected: Stay in touch with family, friends and colleagues who are positive and supportive. Use phone calls, text messages, video chats and social media to reach out to those in similar situations.

Develop a routine: Routine can help to preserve a sense of purpose. In addition to daily tasks associated with work or learning, include other activities that bring enjoyment and help you cope, such as exercise or hobbies.

Self-care: Keep a regular sleep schedule and try to maintain a healthy diet.

Limit your news intake: Focusing too much on the news about the COVID-19 pandemic may cause a relapse of grief while also increasing levels of anxiety.

Get creative: Making art, singing, dancing, cooking and gardening are all activities that get the creative juices flowing and may help you feel better.

Be mindful: Pay attention to the things you can control and try and stay focused on the present.
Senior Care Administrators:
Acknowledge and praise: Public acknowledgement of the incredible work staff are doing can go a long way in improving morale.

Help staff feel in control of their work: To help staff more efficiently manage their jobs, and feel more in control over their work experiences, consider introducing tools such as workforce management and employee scheduling software, making many day-to-day processes—from shift callouts to staff communications and scheduling— more efficient and streamlined, thereby improving the employee experience and lowering stress in the workplace.

Offer specific training for front-line workers: Develop and offer sessions on grieving and bereavement experiences to staff, to help them cope with loss. Incorporating scientifically proven mind-body programs such as mindfulness breathing within the senior care facility in small group settings can go a long way in supporting staff and helping them achieve positive long-term mental health.

Develop a caring culture: Human Resources and senior care leaders can work together to ensure that they are creating a culture that promotes the well-being of staff. Organizational principles steeped in values around care and empathy contribute to helping employees avoid burnout and increase retention rates. Consider incorporating a form of peer support into the daily workday, without adding to staff workload. Peer support can include everything from a buddy system to daily staff huddles and lunch and learn series. Less traditional activities, such as non-clinical retreats, crafting sessions, yoga classes, writing workshops, staff recognition newsletters, and reward programs can also be considered.

Undertake risk assessments: Develop assessments that account for the impact of COVID-19 on other roles in life such as social isolation and unemployment to identify people likely to experience complicated grief and bereavement (or exacerbated pre-existing mental health problems). Offer those team members increased levels of support.
The challenges that senior care frontline workers are facing are serious, and are only going to grow more difficult as the second wave of the pandemic continues to spread across the country. The onus is on senior care leaders to do their best to help their staff where they can.
Learn how BookJane helps health care facilities improve shift fulfillment by 40%, dramatically decrease their time to fill shifts, and significantly reduce burdensome scheduling and administration time.